Presentation of the Faculty
The Faculty of Letters and Languages is created in accordance with Executive Decree no. 03-279 dated 24 Djoumada Athania 1424 corresponding to 23 August 2003 within the University Annex,then attached to the University M'Hamed Bouguerra of Boumerdes.Thus and after promotion of the Centre Universitaire de Bouira to the rank of Université : The Department of Arabic Language and Literature becomes Faculty of Letters and Languages in July 2012.
Faculté des Lettres et des Langues
Dr.DAHMOUN Kahina
Vice- Doyen chargé de la Recherche Scientifique et des Relations Extérieures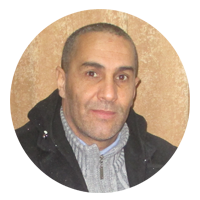 Dr.TAIBI Aissa
Chef du Département de la Langue et de la Littérature Arabe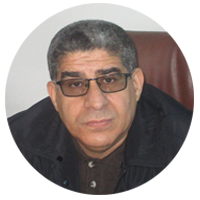 Dr.OULD YOUCEF Mustapha
Vice -doyen chargé des Études et des Affaires relatives aux Étudiants
Mr SEBBIH Reda
Chef du Département de la Langue et de la Littérature Française
Mr LAOUFI Amar
Chef de Département de la Langue et de la Culture Amazighe
Word of Dean
   Since the creation of the Faculty of Letters and Languages by Executive Decree 12-241 of 4 June 2012 establishing the Akli Mohand Oulhadj University in Bouira, the Faculty has opted for a progressive approach to its development. To ensure quality training, the faculty focused on improving bachelor and master courses in three areas: Arabic language and literature, Amazigh language and culture and the French language, with a number of specialties selected according to the needs of the labour market and the field of research. These specialities are taught at the level of licentiate and master.
    To achieve this objective, the faculty is equipped with training teams from the various fields to ensure the performance of pedagogical improvements, and to develop indicators and evaluation tools. As well as the establishment of teaching guidance and support units at the level of each department to boost the partnership with students and contribute to the resolution of pedagogical management problems in collaboration with the administration through the implementation of timely and appropriate administrative procedures.
   I hope that this site dedicated to the Faculty, be a tool of coordination between fellow teachers, students of the departments, administrative staff, and any interested person to inquire about the various scientific and cultural information and activities organized at the Faculty level.
   Also the implementation of this site and its permanent updating is part of a global vision of the development of the University of Bouira.And to ensure its continuous updating, I invite with great pleasure, all the actors of the faculty to an effective contribution to feed this site. And that any proposal or observation of visitors to this site will be welcome.
Professor SALEM SAADOUN
Dean of the Faculty
University of Bouira.
Etudiants en Post- Graduation
Literature and Arabic Language Department
Presentation :
The Department of Arabic Language and Literature opened its doors in 2003 and is one of the oldest Department of the Faculty. Hence the release of several promotions in classical-option system: license in Arabic Language and Literature. While the L M D system was only introduced late in the 2009/2010 academic year. The Faculty currently has three Master's degrees. Without forgetting to mention the outcome of several promotions in Magister-specialité Language Studies.
Focus on the courses offered in Arabic Language and Literature :
A/-undergraduate :
Licence in Arabic Language and Literature : Among its Prerogatives:
– To enable the student to master the Arabic Language, and to be introduced to its various literary forms, both classical and modern,
– To acquire a set of skills enabling him to grasp the Literary text, to appreciate it. Then become familiar with the methods of Modern Criticism in order to design them positively.
That said, the acquisitions of the student widen with his openness to the World Literary Currents, and the Modern Literary Genres relating to our Arabic Literature, considered to be a very influential trend in creative and literary innovation.
Once the diploma has been obtained, the student can move on to other specialties in this case: Journalism-Languages and Theatre Criticism as well as the field of Social Sciences and Humanities.
Bachelor's degree in Modern Criticism: it is a specialty that allows the student to move towards teaching, journalism, and correspondence in Arabic language, or animation within the different directorates of the Youth. In the Master degree:
Literary Studies : Among the goals outlined by this specialty :
– To train managers specialized in the study of Arabic literature,
– Enrich the sector with new visions,
-Ensure the opening of our Arabic Literature on other human cultures,
-Direct Academic Scientific Research towards fields related to Literature, Arts and Culture,
– Participate in the training of doctoral researchers,
-Guarantee a Literary heritage accumulation based on modern methods ,
-Creating the means of cultural transmission and archiving of literary studies,
-Renew theoretical options on Literature and Art,
-Délimiter l'option future afin de promouvoir le développement humain,
-Offrir a l'étudiant-chercheur la possibilité de s'insérer dans la vie professionnelle et ce dans des secteurs Culturels , Artistique et Théâtrales,
-Open specific frameworks for the Research and Experimentation sectors,
-Train Heritage Advisors in Public and Private Cultural Enterprises,
-To train Art Advisors within the Institutions of the Information Sector.
Language Studies : the diploma obtained in this sector allows :
– Apply for a teaching position in Arabic, through the different levels of general education and higher education,
– Continue his research and corsus with the aim of teaching at the university,
– Apply for a position in the Culture, Information and Journalism sector (in the public or private sector), in Literary Publishing, Archives, Public Libraries and Publishing Houses,
– Apply for a post in the commercial diplomatic corps: Seconded to the Culture sector,
-Join the field of Journalistic and Administrative Correspondence in a general way.
Training Offers
1-Arabic Language and Literature
A/-En cycle :
Licence :Arabic Language and Literature – classical system-
Licence : Arabic Language and Literature – LMD système –
Option

Filière

Spécialité

 

Langue et Littérature Arabe

Langue Arabe

Etudes Linguistiques

Langue et Littérature

Littérature Arabe

Littérature Arabe

Critique Contemporaine
B/En master :
Option

Filière

Spécialité

 

Langue et Littérature Arabe

Littérature Arabe

Etudes Linguistiques

Littérature Arabe

Critique Arabe Contemporaine

Langue Arabe

Etudes linguistiques
2- Department of Language and Culture Amazighe
A/En Licence L.M.D :
Option

Filière

Spécialité

Programmes de Formation

Amazighes Language and Culture

Amazighes Language and Culture

Literature and heritage Amazighes

      Amazighes

Linguistique  Amazighe
B/-En Master :
Option

Filière

Spécialité

Amazighes Language and Culture

Langue et littérature Amazighes

Littérature  Amazighe

Langue et littérature Amazighe

Linguistique  Amazighe
C/-En Doctorat :
| | | |
| --- | --- | --- |
| Option | Filière | Spécialité |
| Langue et culture Amazighes | Langue et littérature Amazighes | Littérature  Amazighes |
3- Departement of French langauge
Licence
 

Spécialité

Filière

Domaine

Science des textes littéraires

Français

Langues  étrangères
Literature and French Language Department
Présentation
The department of French of Akli-Mohand University OULHADJ opened its doors in September of the 2011/2012 academic year for training in French language and literature.
 he department offers courses in French language and literature during the first four semesters of the licence. The last two semesters are devoted to the two specialties: : Sciences du langage et Science des textes littéraires.
 Enfin, les quatre semestres de master sont consacrés, en dernière étape du cycle de la graduation, aux deux spécialités : Language Sciences and Literary Texts.
Zoom sur la formation en français
L'objectif de cette formation est de
 Former des étudiants en tant que futurs enseignants dans les différents cycles de l'Education Nationale.
 Initier les étudiants à la recherche universitaire.
 Permettre la poursuite d'études universitaires : Master et Doctorat.
 Développer la compétence communicative en langue française : Acquisition d'une pratique courante de la langue française, d'une connaissance approfondie de ses mécanismes (grammaire, linguistique) et de la civilisation, de l'histoire et des cultures des pays francophones
 Construire des capacités à l'analyse des phénomènes résultant du contact des langues, principalement : Arabe, Français, et Anglais.
 Maîtriser les techniques des expressions orales et écrites.
 Développer les stratégies de traitement des informations et de construction de connaissances par la lecture- compréhension de documents variés (textes littéraires, scientifiques, journalistiques, philosophiques, dépliant touristique) en langue française.
 Permettre aux étudiants la consultation de divers documents scientifiques, littéraires, journalistiques et touristiques en langue française.
 Acquérir les outils de la méthodologie de la recherche scientifique
 Formation générale en sciences humaines : aptitudes à l'analyse, à la synthèse, à l'exploitation de documents. Technique de la traduction, de la dissertation, du commentaire de texte dans la perspective des concours Universitaires, ou de l'Education Nationale, ou de Formation à l'Etranger.
Le lauréat pourra intégrer soit le– Secteur de l'enseignement public et privé – Secteur de la formation professionnelle – Secteur pré et péri scolaire
Scientific Council
The Scientific Council is created in accordance with Executive Decree no. 03-297, dated 23 August 2003 on the tasks granted to the University, completed and amended.
Article 43: The Scientific Council of the Faculty consists of the following members: :
-The President of the Scientific Council of the Faculty.
– The Dean.
– The Vice-deans.
-Heads of Departments.
– A Director or several Directors of Research Units, or possibly Research Laboratories
-in case these exist-.
-(02) Two Teachers-Elect representatives for each Department.
-The Head of the Faculty Library.
Your opinion:
Article 45:: The Scientific Council of the Faculty shall issue directives and instructions relating to:
– Themes of educational programmes.
– Research workshops.
-Proposals related to research programmes.
– At the creation or closure of Departments and/or Research Units in Laboratories.
-Proposals related to the opening and/or reopening of Lines in Post-graduation, while creating jobs based on need.
-Respect for teacher needs criteria.
– Choice of Research Topics in Post-graduate Studies and Commissions in Defense
-Proposals related to commissions for university rehabilitation.
-Studies of the results obtained during the various educational and scientific activities of the Faculty, sending them to the Rector, accompanied by the various recommendations issued by the Council. The latter has the opportunity to get involved in the pedagogical questions or Scientifiques proposed by the Dean.
Article 46: The Scientific Council of the Faculty shall meet in regular session every three (03) months in response to a convocation of its President. As it may meet in special session at the request of its President or at the request of 2/3 of its members or the Dean of the Faculty.
Article 47:: The Scientific Council of the Faculty exercises the prerogatives of the Research Unit in accordance with Article 16 of Executive Decree 99-257 dated November 1999.
Les Membres du Conseil Scientifique :
1 ـ  د. سالم سعدون                     رئيس المجلس
2 ـ  أ د. محمد جلاوي                    عميد الكلية
3 ـ  د. بوعلام طهراوي                    نائب العميد لما بعد التدرج
4 ـ  دة. كاهنة دحمون                     نائبة العميد للدراسات
5 ـ  د. رابح ملوك                            مدير مخبر
6 ـ  د. مصطفى ولد يوسف                رئيس قسم
7 ـ  د. محند محرازي                        رئيس قسم
8 ـ  د. رضا سبيح                            رئيس قسم
9 ـ  أ د. أحمد حيدوش                      رئيس اللجنة العلمية
10 ـ  د. عيسى بوسيقع                    رئيس اللجنة العلمية
11 ـ  د. عبد الرحمن عيساوي             ممثل الأساتذة من صف الأستاذية
12 ـ  أ. يوغرطة ميلودي                     ممثل عن الأساتذة المساعدين للكلية
13 ـ  أ. قادة يعقوب                          ممثل عن الأساتذة المساعدين للكلية
14 ـ  سامية نجاري                          مديرة مكتبة الكلية
Department of Tamazight
Zoom sur la formation
– Linguistique amazighe    l'issue de la formation est de maitriser
the use and reflection of the Amazigh language as a means of communication and training and to enrich linguistic and cultural knowledge by reclaiming the ancestral heritage; amazigh, to develop critical thinking and literary analysis, strengthen the process teaching learning tamazight and meet the demand of the tamazight education market, as well as to train graduates in Amazigh language and culture with the objective of enriching and improving the quality of education at school level;schools  and secondary
the student has little access; to the education sector; national and; a higher education or start the field of communication – audio-visual, written press .
Letter and cultural heritage Amazighes in the object of training licentiates for the rehabilitation and the support of the material and intangible heritage in all its diversity, Train tourist and cultural guides in tamazight.
The student will be able to work in the following sectors: Higher Education and National Education, Ministry of Culture (culture house, etc.), animator in the field of tourism (museum, archaeological site)nbsp;.
–Master's degree in literature amazighe scientific research in the field of Amazigh linguistics and literature, mastering certain software useful for research in literary and linguistic terminology, interpret and develop linguistic Atlases and more specifically Amazigh language.
 The student after the master's degree; be a university teacher, researcher or journalist. As; he can deepen his training in Amazigh literature in the framework of the doctorate